Creates an OLED that can stretch more than twice its original size
Researchers at the Pritzker School of Molecular Engineering (PME).University of Chicago they created a OLED displays as flexible as it can be folded in half or stretched to more than twice its original length while emitting a fluorescent pattern.
The stuff the researchers are talking about natural materials, could find application in a variety of scenarios, from wearables to health sensors to foldable computers. Called TADF OLED Because of the polymers it is made of, this material is the result of the union of "knowledge from many different fields to create a completely new display technology". explained Sihong WangAssistant Professor of Molecular Engineering Juan de Pablo.
"This is the class of materials that you need to finally be able to develop truly flexible displays," adds de Pablo. "This work is really fundamental and I expect it will enable a lot of technology that we haven't thought of yet".
More and more screens are based on OLED technology, which is based on the entrapment of small organic molecules between conductors. The passage of electric current causes the small molecules to emit a bright light, allowing for a better view of the image than previous technologies and lower consumption because black is not generated by pixels.
The problem for an application in flexible electronics is that The molecular building blocks of OLEDs have strong chemical bonds and rigid structures. "The materials currently used in the best OLED displays are very fragile; They have no elasticity"Wang said. "Our goal was create something that retains the electroluminescence of OLED, but with elastic polymers".
Wang and de Pablo knew what was needed to make materials—long polymers with flexible molecular chains—elastic, and also what molecular structures were needed for an organic material to be able to emit light very efficiently. So they decided to do it create new polymers that integrate both properties.
"We were able to develop atomic models of the new polymers of interest, and with these models we simulated what happens to these molecules when you pull them and try to bend them," explained de Pablo. "Now that we understand these properties at the molecular level, we have a framework to design new materials with optimized flexibility and luminescence."
Armed with computational predictions for new flexible electroluminescent polymers, the researchers built several prototypes. Exactly as expected from the model, were the materials flexible, expandable, light, durable and efficient from an energetic point of view.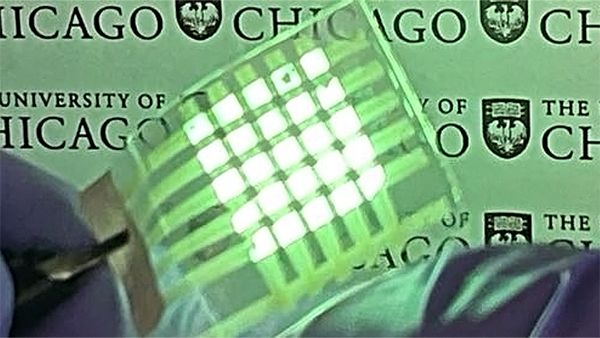 A key feature of their design was the use of the "thermally activated delayed fluorescence', which enables materials to convert electrical energy into light in a highly efficient manner. This mechanism enables materials with performance that matches that of commercial OLED technologies.
The foldable, light-emitting materials can not only be used to display information, but also integrated into wearable sensors that require light. Sensors that measure blood oxygenation and heart rate, for example, typically shine a light through blood vessels to detect blood flow.
Wang believes a lightweight, bendable material could also have applications in implantable devices, such as those that use light to control the activity of neurons in the brain (optogenetics, currently only used in animal studies to better understand the brain and brain diseases understand).
The researchers from Chicago are planning for the future develop new iterations of the display and integrate additional colors in fluorescence (currently it can only display two colors green and white) and improving efficiency and performance. "The aim is achieve the same level of performance as existing commercial technologiessaid Wang.