PS5 updates at 7am: Discord coming and VRR support for 1440p
Almost two years after the announcement of the collaboration between PlayStation And discord, the popular messaging client, finally arrives on Sony consoles. a little more precise, PS5 to benefit from the valuable support of Discord, which allows players to benefit from it starting today voice chat and therefore to communicate with users connected through the other supported platforms.
The coveted support for the variable refresh rate is also coming (VRR) for resolution 1440p, a feature long requested by fans. The Firmware 7.00 it also brings with it several options Adjustment dedicated to your PSN account and new featuresAccessibility.
PS5 update ready: the main news of firmware 7.00
As anticipated by some insiders last summer, including Tom Henderson, discord would have arrived on PS5 on March 8th, 2023. The rumor was "spot on": a few hours ago Sony has released the PlayStation 5 update bringing the system software to version 7.00. The client is now accessible via the latest generation console and allows participating in a voice chat initiated by another PS5 user or by Windows, Mac and mobile (Android, iOS) users.
To use the messaging service on the Baster console link your Discord and PlayStation Network accounts from the console, from the official site Playstation.com or alternatively via the app available on the platforms just mentioned. There Proceedings to use the client on PS5 more complex than expected: as explains Sonyyou must first start the Discord app on your smartphone or computer, and then choose a voice channel: here you need to select the item "Join on PlayStation". to transfer the chat to the selected console.
With the launch of Discord, they are coming too other small news related to communication on PS5. It is now possible to send a screen sharing request or share your screen with a friend directly from their profile. We also find a new "join game" icon in the party chats, useful to join the online game immediately.
The second most important change concerns the support of VRR for 1440p. "If you're playing a game that supports VRR and a HDMI 2.1 displays compatible with VRR, Now you can enjoy smoother graphics performance at 1440p resolution"Sony explained. The company also announced that it has expanded support to a wider range of displays. To make sure your screen is compatible, just visit the settings (1440p output test).
As for accessibility, Sony has made it easier to share data from PS4 to PS5. Starting today, when you download an "old generation" game on PlayStation 5, you'll see a notification letting you know if you have PS4 save data available in your cloud storage (PSN).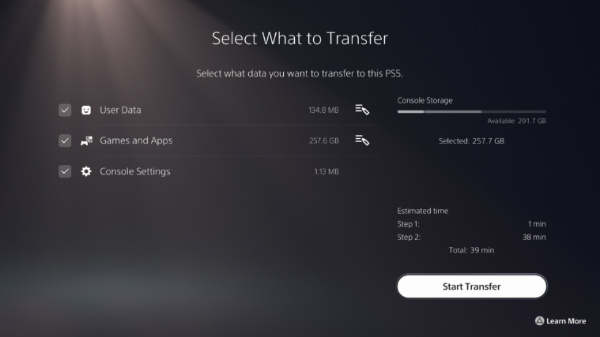 data transfer too from PS5 to PS5 been simplified. Now you can actually use the local Wi-Fi network or a LAN cable to migrate all data (games, saves, settings, media) from one console to another without removing or wiping the data on the original PS5 change.